Dr. Stephen V. Hoyt, Head of School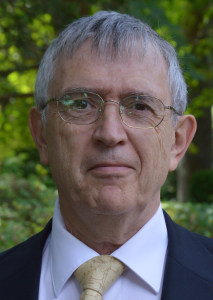 For the past 12 years, he has worked as the primary language consultant and lead teacher in an intensive English language program for scientists he designed for CRDF Global, a Non-Governmental Organization (NGO) in Northern Virginia. The program was financed by the MacArthur Foundation and supported by the Russian Ministry of Education and Science. He developed assessment vehicles, a 'Presentation Skills' and a special academic writing class for the program. He also hired and supervised English and science teachers.
Dr. Hoyt has written grants that include integrating technology into the curriculum and using community assets to improve student learning. He has also developed a special literacy program called Constructivist Process Literacy that has been implemented in schools and universities in the U.S. and abroad. In addition, he has written more than 60 articles and made presentations at local, national and international conferences on cognition, curriculum, technology, language pedagogy and literacy.
He was co-director of the Secondary English Program at Eastern Washington University (EWU), where he taught future English and TESOL students and advised students in their Master's theses in TESOL. He has permanent certification in New York as a principal and superintendent and a teacher of English, German and social studies; in addition, he has taught ESL in the New York City Public Schools.
His international background includes eight years residence in Germany and two years in Moscow, Russia. He has traveled to more than 30 countries. He regularly exercises and holds a third degree black belt in traditional taekwondo. He has coached basketball, track and field and strength training for athletes.
He regularly enjoys writing and reading literature of different countries.
______________________
Adrianne Goodson, English Teacher
"You, Adrianne, are the biggest motivator for students learning. You are witty and fun, so who wouldn't want to learn what you are teaching!?! You are masterful at making assessment a seamless part of your instruction. You are able to quickly and efficiently monitor understanding and make decisions about where to go as a result." — Teresa Dodson Principal Reynolds Middle School.
I actually graduated from Canton High School in Canton, TX, but my path quickly led me to Las Vegas, NV on a cheerleading scholarship when I was 18.  I stayed in Nevada to obtain my Bachelor's and Master's degrees from the University of Nevada, Las Vegas in Marketing/Advertising and Education. My husband and I chose to move back to Texas so that our little girl, Aria, could be even closer to our family and to start a little farm.  I really love animals, and I have over 30 at the moment, but I also LOVE to read and write.  My goal is to write my own teen fiction book. Personally, I love scary movies, haunted houses, theme parks, and Mexican food.
______________________
Nikki McLaurin, English Teacher
I have been teaching English for over ten years.  I taught ESL classes in the public schools and English composition courses at Wake Technical Community College in Raleigh, N.C.  I have extensive experience teaching online via Blackboard, and I understand the importance of timely and constructive feedback so that students can excel in an online environment.  I look forward to working with the students of Obridge Academy to facilitate their academic success as they work toward their life goals.
______________________
Mrs. Mary Congleton, Math Teacher
I am completing my 29th year of teaching. I taught 23 years in Texas and 6 years in Nevada. I have taught all subjects and all grades through 8th. I also coached a couple of years in high school. However, I have taught math all 29 years. Math is where my passion lies! My wonderful husband, Bruce, and I have been married for 31 years. We have 3 beautiful children, 1 handsome son-in-law, and 1 precious granddaughter.
______________________
Mr. Chase Cammarota, Science Teacher
Mr. Cammarota is passionate about the natural world and science education.  He has worked extensively on NYC environmental issues, such as protecting groundwater and pollution remediation.  He has connected with young learners to manage and execute land stewardship projects such as bird habitat conservation.  Mr. Cammarota graduated from Saint Joseph's University with a BS in Environmental Science.  He also completed graduate work at Stony Brook University and Queens College.  His interests include cooking, gardening, bird watching, fishing, and basketball.  He is looking forward to the coming years of working with students to investigate and learn how the Earth works and affects the community.
______________________
Mr. Bruce Congleton, Science Teacher
I believe in what I do.  I believe in the educational system, even though many challenges face the educators of the future.  I believe the key to the education of our future citizens is communication.  The school should strive for a cooperative partnership between the school and the parents.  The school should strive to maintain a positive relationship with the community at all times and the employees of the district should uphold a high standard for all to observe.  Technology is the wave of the future, and I have been very active to insure that my school is on the cutting edge in this area.  Test scores are important and I strive to make sure that we achieve the maximum level of success.  I believe in teamwork, cooperation, loyalty, and dedication.  These key ingredients are at the core of my philosophy for success.   The most critical ingredient that guides my decisions is one simple question.  What is best for the kids?  This is my constant guide each and every day that directs me in my decisions.
______________________
Mr. Joe Spencer, History Teacher
"An Investment in Knowledge Pays the Best Interest" Benjamin Franklin
Mr. Spencer has more than 5 years of teaching experience working in various schools in the Buffalo, New York area, including both High schools and Middle schools in both the public and private sector. He has also been a Drama Advisor, and a Boys and Girls Swim coach. He has lived in Buffalo, New York for most of his life.
______________________
Ms. Kemberli Mayo, Spanish Teacher
Kemberli attended the University of Louisville and graduated with a Bachelor of Arts in Spanish and a minor in Latin American Studies. As a part of her program at the University of Louisville, she completed a summer study abroad program in Panama. She has lived in Texas, Kentuckiana and North Carolina. She has travelled abroad to Mexico, Haiti, Jamaica, the Grand Cayman Islands and the Bahamas. For the past six years, Mrs. Mayo has taught Spanish I, II, III and IV at the high school level. She has professional certification to teach Elementary Education K-6 and Spanish K-12. Mrs. Mayo has recently obtained a Master of Education in School Counseling from Liberty University. She is currently a Professional School Counselor in a public high school. She enjoys spending time with her husband and two daughters at home, the park or the beach. She enjoys doing Zumba, traveling, reading, watching romantic comedies and encouraging others to stay focused on achieving their personal and professional goals.
______________________
Mr. Joe Ruisi, Computer Science
I taught computer languages and from my experience in aerospace engineering I taught graduates and undergraduates how to solve practical problems they would encounter in science, engineering, business and industry. I placed heavy emphasis on topics which prepared students for the competitive market across industry and science. The bulk of what I taught was how to explicitly comprehend and implement data structures in several high order languages and low level assembly language, this was viewed as unique and of value. I left the object oriented programming in C and Pascal at the time, to the other faculty members to teach. This powerful approach to programming though well developed was not yet in wide use in mature platforms but heavily explored in universities and laboratories. At the same time I was a grad student in mathematics and physics. My focus in mathematics became dominant and after continuing on to a doctoral program at the University of California, I again returned to the aerospace industry, but shortly thereafter branched out in to the world of data processing and large systems.
OOP, (object oriented programming), and its associated languages, notably Java, C, C#, and C++ and the targeted platforms for implemetation have enjoyed widespread use and promoted explosive growth emerging and new technologies. I was a member of the Java Alpha team which created Java, at Sun Microsystems in 1994 and 95. From smart phones to PC's, XBOX's to servers, GPS in autos to mainframe computers, Java with its platform independence and portability has opened up a world of invention for fresh ideas to proliferate. I bring the "nuts and bolts of how to do things" and the "nooks and crannies" of their internals to the table. Hopefully to stimulate creative thinking and practical problems solving. Throughout my years, I have worked in aerospace, scientific research,defense, telecommunications, transportation, insurance, health care, manufacturing, electronics, operating system and network software. Now, the tools I will be teaching, which I once saw as largely satisfying research interests in computer science are in use day to day in the gadgets and devices which are ubiquitous and surround us, and have changed our lives.