Accredited Online School
Obridge Academy is a private, online school accredited by Cognia, formerly AdvancED. All schools formerly accredited by AdvancEd have undergone rigorous re-accreditation measures to ensure quality of education, high institutional standards, and ethical organizational practices. Cognia is the world's largest education community, serving more than 30,000 public and private schools and districts across the United States and in more than 70 countries that educate over 16 million students.
Obridge is now proudly accredited by Cognia, our school can be found here on the Cognia website.
Accreditation is a process where third parties certify the competencies, authority, and credibility of Obridge Academy. This approval further serves to confirm our current practices, teaching credentials, expertise, curriculum and staff excellence with an external third party. Accreditation helps to assure that Obridge Academy students receive reciprocity of credits, courses, and grade-level placements with schools and universities around the world.
Obridge celebrates and embraces accreditation. It is a necessary, ongoing process of self-study, goal setting and evaluation. Accreditation ensures that excellence is a process, not just a destination
Effective January 2018, Obridge Academy officially established a chapter of the National Honor Society (NHS)! Obridge students who meet specific criteria can now be selected members of our chapter, and as such, will enjoy the benefits of exclusive information about leadership development, college preparation, scholarships, service activities, and financial aid planning.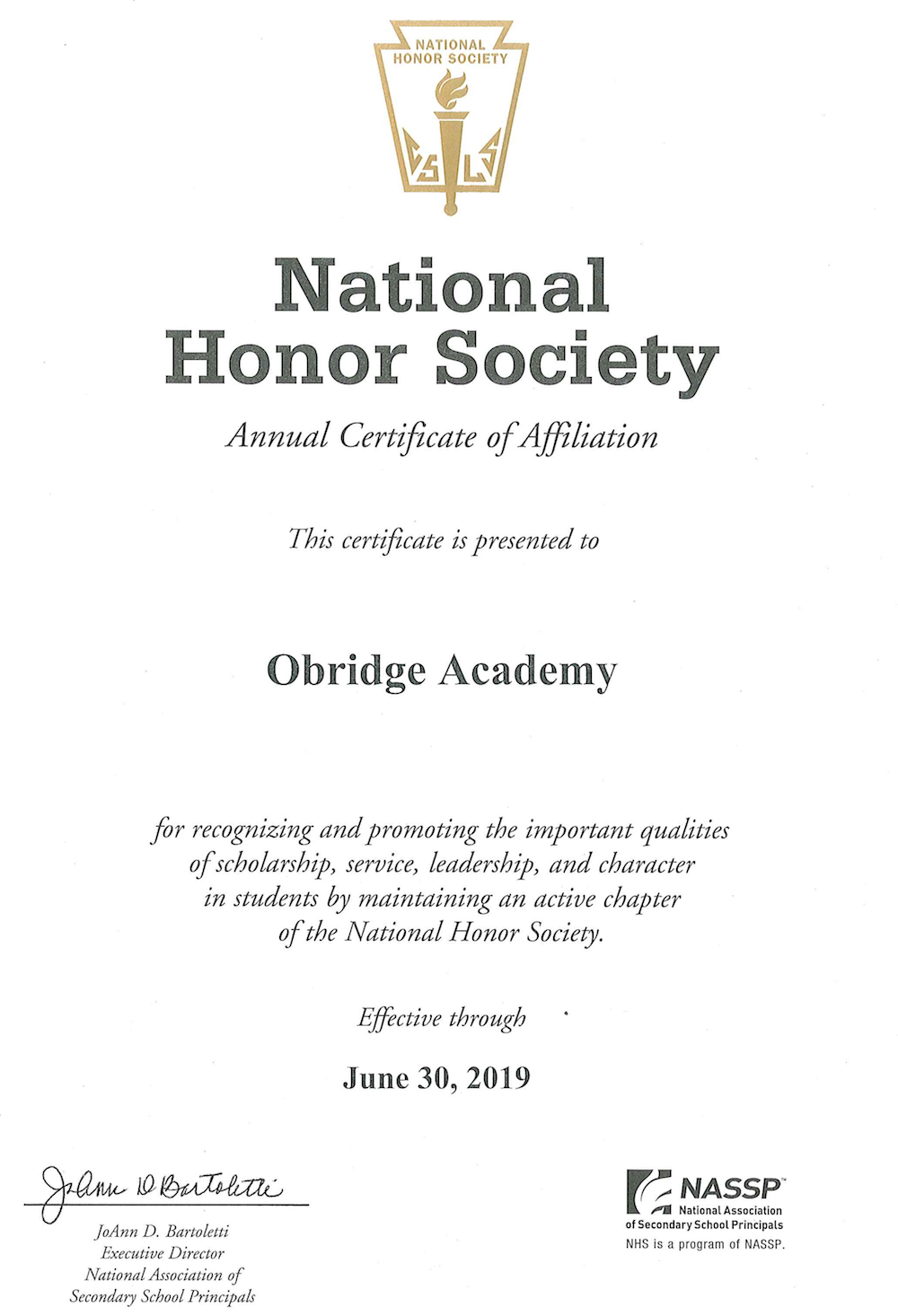 Obridge Academy has been a member of the Better Business Bureau since August of 2012. Obridge Academy was previously located in Tampa, Florida, and was a member of the West Florida Better Business Bureau. Obridge Academy is now a member of the Better Business Bureau of West Palm Beach. Obridge Academy has achieved an A+ rating with the Better Business Bureau.