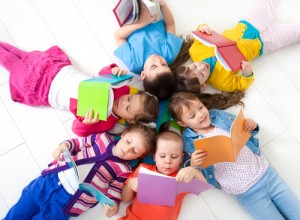 At Obridge we do more than offer online schooling for middle school students and online high school diploma programs.  We value education and promote learning throughout the year.   Summer should be a time where families can enjoy the warm weather and enjoy each other's company, but adopting an "all play, no work" philosophy for your children during the summer could be hurting them academically.
According to the National Summer Learning Association, students typically score lower on standardized tests at the end of summer vacation than they do on the same tests at the beginning of the summer.   Learning shouldn't stop when school is let out for the summer, and parents need to do their part to encourage their kids to learn even when they aren't in the classroom.  Don't let your child or teenager fall behind when they start summer vacation, follow these tips to keep your kid's brain active and learning this summer.
Encourage Reading
Reading for school will help them pass the required summer reading review test, but it won't help them develop a healthy interest in reading. In the past parents would bring their kids to the library to check out a few books, but if you really want to pique your kid's interest in reading download the Kindle App (bonus: it's free) for their tablet or phone and tether their account to your credit card.  There are a lot of books available digitally, and there are a variety of books catered towards pre-teens and teens that your kids can download.  Digital books are much cheaper than traditional paper ones, and you won't have to worry about returning this literature to the library.
Look Into An Internship
Internships aren't just for college students.  Many large companies offer internships to both high school and college students, and some even have special internships designed for teens that are still in high school.  If your teen has expressed an interest in working in a certain field having an internship for the summer would be very beneficial for them.  They'll be able to gain real work experience that their peers won't be getting for another few years, and it could help them determine if their desired career path is right for them.  They may not get paid for their work, but the experience they gain will be more valuable than a paycheck.
Check Out Your Community Calendar
Who said that only schools can schedule field trips?  During the summertime museums, cultural centers, and local hot spots can teach your kids about a topic than interests them.  Take your teen who loves to draw to the local art museum so they can learn about different kinds of artists and art styles.  Take your kid that loves animals to the zoo for a day to learn about wildlife.